ODL Control and Operation
RFOptic ODL can be operated and controlled locally through the LCD panel or remotely
---
Local Control

An illuminated navigation keypad and a LCD display on the front panel are used to control the ODL locally.
The up and down buttons are used to increase and decrease respectively the value of the field that is currently selected. A cursor in the display shows the current selected field. The cursor can be moved to the next field using the center enter button.
A key combination is used to switch from screen to screen in the display. Main display screen:

---
Remote Control
The ODL can be controlled using a PC with an interface program. The main display screen of this program is shown below. The PC interface provides easy access to all the ODL functions and more. It can control multiple ODL's and RFOptic RFoF links with each assigned its own tab.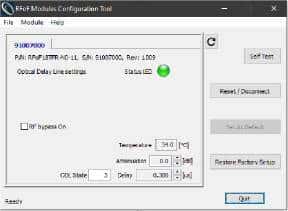 Optical Delay Line solutions are used for testing and calibrating:
---
Radars
Altimeters
Flight Simulators
Any equipment that measures distance, altitudes
Some of the options are:
Unity Gain
Automatic Gain Control
Dispersion Compensation
Ability to add external delay line for future growth (Investment Protection)
Fixed or Variable Delay
Bypass
Attenuator